After reading about this challenge, I just had to try it! I love die cutting on cards. SO here is my take on this challenge.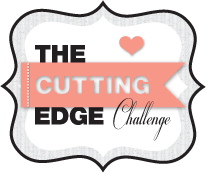 There are several requirements to the challenge and I will do my best, but I am new at entering challenges so here goes...
My inspiration came from a search on Google image for PTI's Botanical Blocks... my order just arrived today and I was so excited to give them a try!
I stamped and embossed the image with white on Classic Kraft paper before painting with Distress inks mixed with Perfect Pearls. The image is painted with Spun Sugar, Tattered Rose and Peeled Paint. The greeting "thinking of you" is cut and then cut again in PTI Hibiscus Pink, inlaid and glued with a new ZIG 2 way glue pen. I really liked the way it worked for this.
I also "painted"over the greeting with Glossy Accents to make it shine. The i's are dotted with little hearts. The base has a strip of washi tape on the side and bottom before adding the top layer.
Now a look at my first try which I painted with watercolors... Didn't like the result at all! I hate the evidence of Glossy Accents! I wasn't careful enough...
Now a quick look at two more images in the making with Distress painting. I love the Spiced Marmalade and Wild Honey... It looks so authentic!